For the first time in 2017, the Colombian peso has crossed the 3000 barrier, weakening to 3056 Colombian pesos to 1 US dollar. The recent weakening is seen as related to the plunge in world oil prices, which seem destined to drop below $40 per barrel in the coming weeks. The U.S. Federal Reserve's recent decision to raise interest rates in the United States and the surprise decision of Colombia's central bank, the Banco de la República, to lower rates, are also seen as a key factors.
While the drop in the peso will be viewed as welcome news by exporters in the Andean nation, a weaker currency will contribute to the country's rising inflation rate and increase the price of most products sold within the country.
"The Colombian peso tracks almost exactly to the price of petroleum", said GITP's Michael Puscar, an expert on the Colombian economy. "Unless oil prices can find their footing, expect a further decline in the peso in the coming days."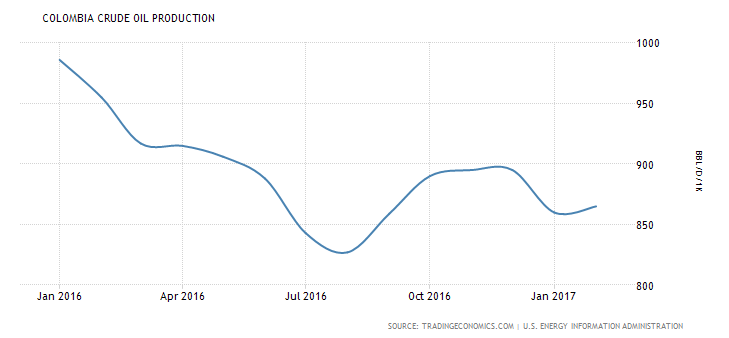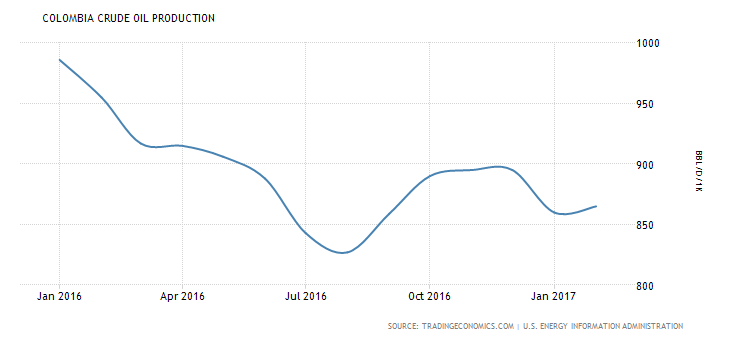 Colombia's oil production has recently been called into question, with some experts saying that Colombia may become a net importer of oil within the next 5 years. Colombian oil reserves dropped more than 16% in 2016 alone, and as the above figure shows, 2017 has seen a dramatic decline in oil production.
Oil prices have continued to decline despite recent volatility in the Middle East and an OPEC production cut.