The Index of Producer Prices (IPP) is an indicator that measures the weighted average change in sale prices directly from producers in Colombia, as the name suggests. This index is very helpful when analyzing and forecasting inflationary data in the Andean nation.
The DANE (Colombia's Statistics Department), taking December of 2014 as calculation base, reported for the month of July 2017 an IPP of -0.50%, compared to 0.91% from the past July 2016. The IPP calculated for the periods of January – June 2017 and for June 2016 – June 2017 was of -1.77% and -2.07% respectively.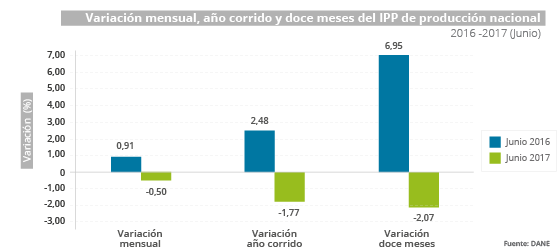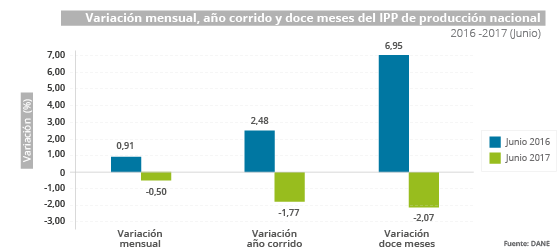 By sectors, for June 2017, the variation in prices was -2.82% for the mining industry and of -0.29% for the agriculture, cattle and fishing industries, compared to last year's percentages of 2.61%, and 1.25%, accordingly.
The principal sub sectors that contributed to a negative growth of the IPP were petroleum (-6.76%), citrus (-18.17%) and tropical and sub-tropical fruits (-33.19%). By contrast, the major sub-sectors that contributed to a positive growth were coal (4.79%), carrots and turnips (66.71%), and sugar cane (8.63%).
In summary, these sustained negative indexes throughout 2017 likely suggest decreasing inflation, a trend that will be welcomed by consumers. However the DANE still projects that inflation will remain within the 2% to 4% range annually in 2017.