This Thursday, the Colombian national soccer team will play the first of two games which will determine whether or not they will qualify for the 2018 World Cup in Russia. Los Cafeteros currently sit in third place in the CONMEBOL table, and can qualify for the tournament as soon as Thursday (see scenarios below).
Though currently in third place, Colombia's position is precarious. With 26 points, they remain only two points ahead of Peru and powerhouse Argentina, and three points ahead of Chile. The top four teams in the table will automatically qualify for the World Cup, while the 5th place team will advance to inter-confederation play-offs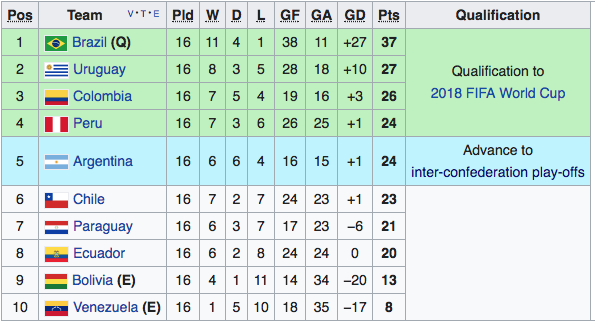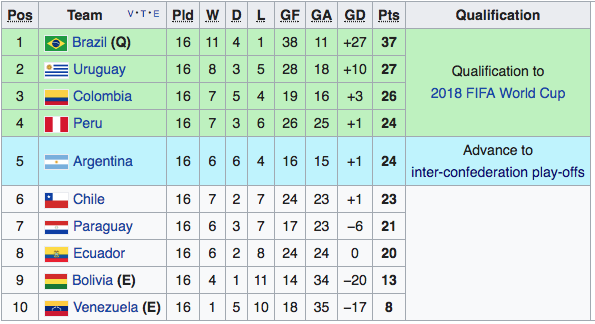 Brazil has already qualified for the World Cup with an astounding 37 points in 16 games played. That leaves the final four spots between five teams: Uruguay, Colombia, Peru, Argentina and Chile. Paraguay and Ecuador also remain in contention, but need to both win and help from other teams to advance.
This Thursday, Uruguay will play in Venezuela, Ecuador will play in Chile, Peru will play in Argentina, and Paraguay will travel to Barranquilla to play Colombia. Next Tuesday, Chile will face Brazil, Argentina will travel to Ecuador, Bolivia will play in Uruguay, and Colombia will play in Peru.
If you are a fan of Los Cafeteros, you should be rooting against Chile on Thursday. The qualifying scenarios for Thursday's games are below.
Colombia can qualify for the World Cup on Thursday:
1. If Colombia defeats Paraguay and Ecuador defeats Chile
2. If Colombia defeats Paraguay and Ecuador and Chile tie
3. If Colombia defeats Paraguay and Peru and Argentina tie
Colombia can be sure to at least advance to the inter-confederation playoffs:
1. If Colombia ties Paraguay and Ecuador defeats Chile
Colombia cannot be eliminated from the tournament in Thursday's games. However, should they lose to Paraguay on Thursday, the road becomes much more difficult. A loss would drop Los Cafeteros as low as 5th in the standings with a must-win game next Tuesday in Lima against Peru.
There are no easy games in the CONMEBOL conference, but Uruguay would seem to have the easiest path to qualification with games against Venezuela and Bolivia.