As citizens rights defense attorney Carlos Alfonso Negret walked the streets of Medellín's Altavista neighborhood yesterday, his concern for its residents grew. Off limits to police and controlled by criminal gang members, flagrant human rights violations continue in this neighborhood where 10% of all murders in Medellin now occur.
According to Colombia's Security and Cohabitation Information System, violent deaths have increased 111% year over year from last year. Extortions, forced displacements and confinements have been increasing as well, according to Negret.
"In rural conflict zones, criminals won't let people work. The same is happening here. They won't let children study nor their parents work", he said.
A Public Ministry representative said that they have been aware of the situation since June and that the Department of Protection of Citizens' Rights is working on solutions to the humanitarian dimension of the conflict.
However Luis Fernando Gómez, a human rights advocate in the city, has warned that families have already been displaced, citing the cases of 54 different families just this past month. The criminal groups responsible for the activity are the "Chivos" (Goats), "Pájaros" (Birds) and "Mano de Dios" (Hand of God), the latter of which are part of the "Los Urabeños", one of the country's most powerful criminal groups. Gómez has proposed that the government initiate talks with the groups to find a peaceful solution to the problem.
"Apart from police enforcement, more social investment should be made, more work alternatives should be provided and people's basic needs should be satisfied in order to reduce breaches of inequality and inequity", he added.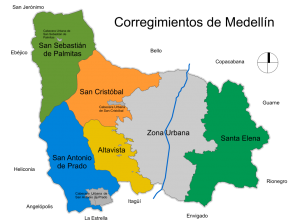 Last Friday 170 children didn't attend to school, which according to Gómez represents 30% of the students from the area. This was due primarily to so-called "invisible barriers", or lines of control between gangs which citizens are not allowed to cross. Those who have defied the barriers often pay with their life.
Families have been leaving the area. Parents are making their children permanently leave school or have asked teachers directly to excuse their children's absences due to the violence. In the Ramón Giraldo Ceballos school, where eight parents were waiting at the school's coordinator this Tuesday. Raúl, one of the parents, told El Tiempo that his child is in danger.
"My son won't leave home because of threats against him by a teenager in our neighborhood, and because of invisible borders and conflicts between criminal groups", he said.
Raúl said that his son needs to take a bus from the city's Débora Arango neighborhood, 20 minutes away from the school, but that this was a dangerous route due to criminal groups.
"Here, anyone can belong to those groups and so, he can't put himself at risk. It can be started with a simple argument on the street", he added.
On Tuesday, the school principal from this municipality resigned because of death threats, becoming the second principal in the neighborhood to do so. The principal said that he his family received feigned condolences because of his death, four days before and that the school's secretary received a call warning her to leave immediately. He said that the criminal organizations want to destabilize the zone and to sow seeds of fear. More than 70 students have already deserted the school.
Schools in Altavista are now implementing active shooter simulations to protect themselves, teaching children to throw themselves on the floor, stay under their desks, and to avoid looking through windows. They are also teaching the children how to conduct first aid and care for fellow students.
"Active shooter simulations reduce risk. We dedicate some time to the simulations, even using gunshot sounds, so that students can be prepared for these situations", the former principal said.
The mayor's office has not commented on the ongoing crisis except to say that they are actively addressing the situation. However, with the mayor's office unwilling to send police or military into the zone, criminals are emboldened and the crime wave is unlikely to end soon.