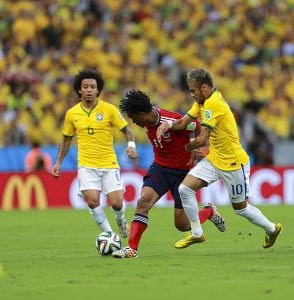 Juan Cuadrado may not get the same attention as his goal-scoring Colombian teammates James Rodríguez and Radamel Falcao. But the man from Necoclí is often the one setting up their biggest moments, the one pulling the strings behind the scenes to lift them into the spotlight.
Cuadrado tied for the tournament-high assist mark in the 2014 World Cup with four, despite playing two fewer games than Germany's Toni Kroos, who also tallied four assists. His work on the wing helped James finish with the Golden Boot Award and lifted Colombia to the quarterfinals of football's most important event.
Cuadrado, who has played for some of Europe's most decorated clubs like Chelsea and Juventus, has established himself as a regular starter for both club and country. After a disappointing stint with Chelsea, his time in Italy has been much more prosperous as he has won multiple league titles and finished runner-up in Champions League with Juventus.
After multiple loans to the Italian power, Cuadrado is currently fastened in with a contract worth €20 million.
Finding his niche on the right side of the midfield for Colombia, Cuadrado is known as a deadly facilitator for José Pekerman's selection. His elite speed and pinpoint passing have made him a mainstay since his debut for Los Cafeteros in 2010. Now, on the eve of Colombia's second straight World Cup appearance, Cuadrado will likely play a huge factor in seeing that Colombia makes it out of the group stages against Poland, Senegal, and Japan in Russia 2018.